"My Galaxy S5 was knocked out of my hand and fell and the screen cracked two weeks ago. When I tried to turn it on, the screen was completely black. The phone still vibrates and lights up when I get a message or turn it on, but the screen remains black. I have a ton of music, pictures, and such on it which I thought were being backed up but I'm not. How do I access and recover the data on the broken phone?"
"My little sister has a S6 with broken screen, and I get an old broken S5. I am wondering is there any tool can recover data from broken Samsung Galaxy S6 and S5 for we have precious photos and videos on the phone."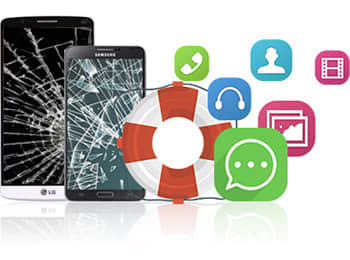 It must be a shock and trouble for you if you accidentally cracked or broke the screen of your Galaxy phone. Galaxy S6 and S5 are one of the best phones with brilliant performance released by Samsung on the other day, so you must have saved lots of precious files and desperately want the data on your broken phone. You'll need to switch the screen. But what if you prefer to get a new phone with the money than fixing the old broken Galaxy phone?
If you don't want to repair or replace the broken screen, how can you get your data off a broken Galaxy phone? Fortunately, here is an Android Broken Phone Data Extraction software to help you to save data from broken galaxy phone fast and safe to computer, where you can import your data to your new phone easily.
Galaxy S6, S5, S4 Broken Screen Data Recovery with Simple Steps
FoneCope Android Data Extraction helps you retrieve data on screen broken Samsung phone without screen touch, getting your priceless files like pictures, videos, music etc. back and safely save them to computer.

Step 1. plug your screen broken Galaxy S phone into PC
To do the data recovery, you're required to download FoneCope Android Data Extraction software, which is absolutely safe and easy to use. Now you can install this tool when the download finished. Next, open and run the broken phone data recovery program on the computer. As for retrieving files from Galaxy S serial phone with broken screen, the correct optional mode to choose is "Broken Android Data Extraction".
Connect your screen cracked Galaxy S6 or S5 to computer via a USB cable before you click Start to move on to the next scanning step.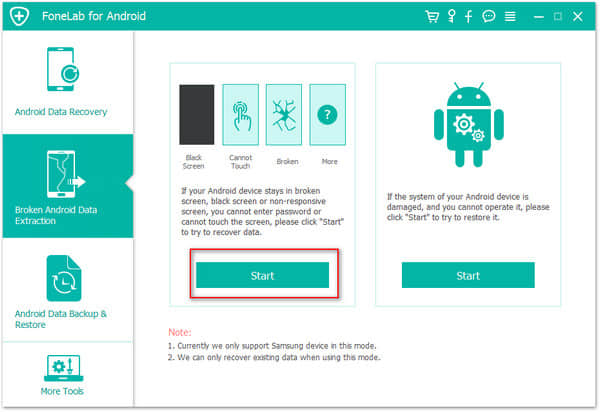 Step 2. scan and analyze data on your broken Galaxy S6 phone
Before this tool start scanning the existing data on your phone, you can select file types such as WhatsApp, photos, SMS, contacts, videos and more, which can shorten the scan time. Generally speaking, this may take about 5 minutes.
If you desperately want all the files on your Galaxy S6 or S5, you can just click Select All.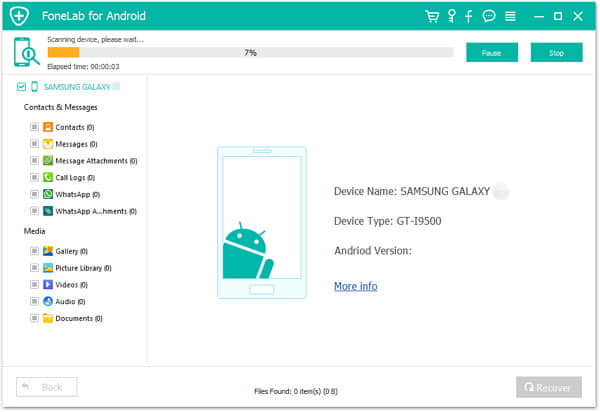 And now you can click Next to scan and analyze your Screen broken phone.
Step 3. choose corresponding problem that your Samsung phone is facing
If you broke your phone's screen by dropping it from stairs, accidentally trampling on it, and throw it vigorously when raging, you should skip Black Screen and directly choose "Others" and hit "Next".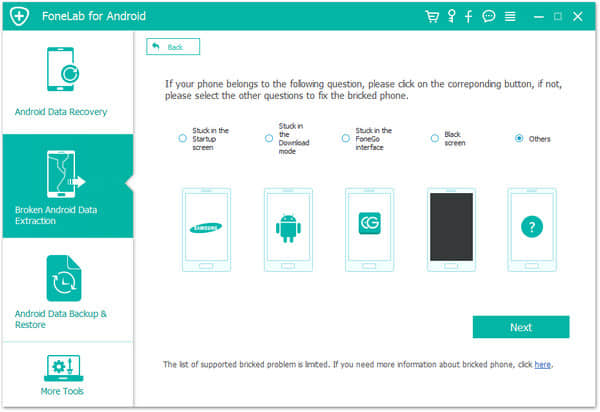 Step 4. confirm device information of your broken Galaxy phone
You can see Galaxy S6, S5, and S4 etc. are on the supported devices list. And now select your phone's name.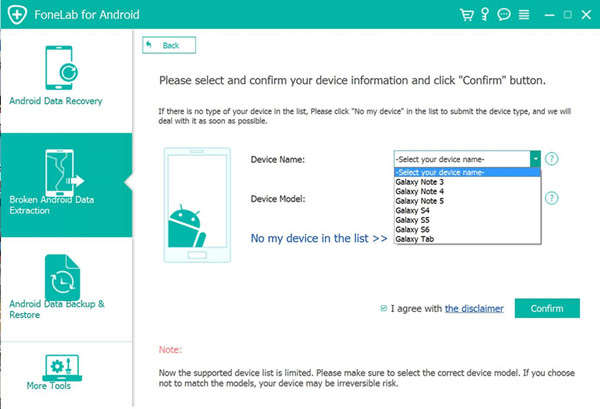 And then you need to confirm your device model. Take Galaxy S6 as an example, you will see code such as SM-G9200, SM-G920F, SM-G920P, SM-G920T, SM-G925F, SM-G925P, SM-G925T SM-G928P, and SM-G928T.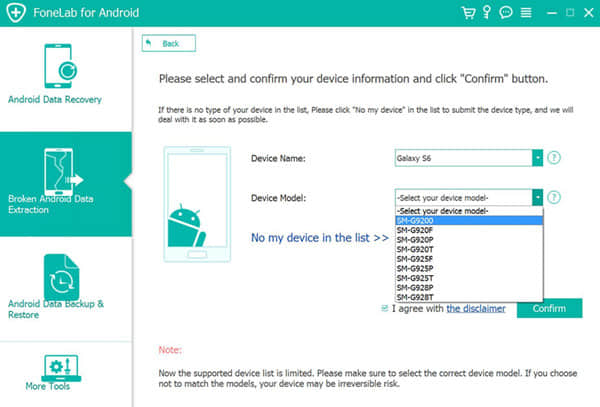 Step 5. enter Download Mode on your Galaxy phone
Follow the instructions on the program to get broken Samsung into the Download Mode.
Firstly, shot down your Samsung phone. Secondly, press and hold three buttons at the same time until the notice message appears, "Volume Down", "Home" and "Power". thirdly, press "Volume Up" to put it into download mode. As soon as your Galaxy is under download mode, click "Start" on PC to continue.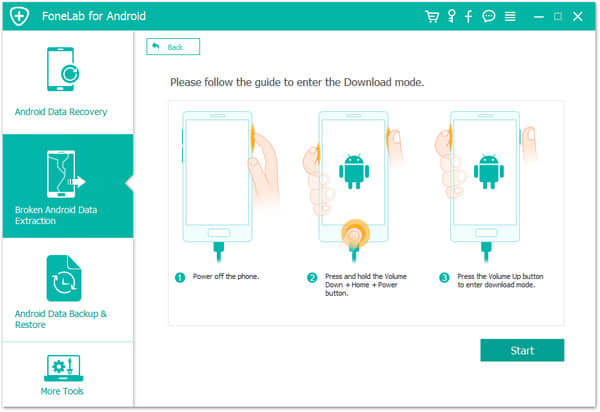 Step 6. wait a minute to scan your broken phone
It will take some time to download the matching recovery package and scan the existing files on your Galaxy phone with broken screen. Please wait for minutes patiently and keep your broken phone connected to computer all the time.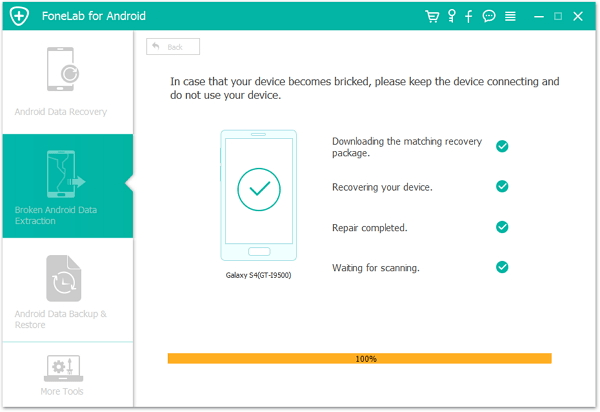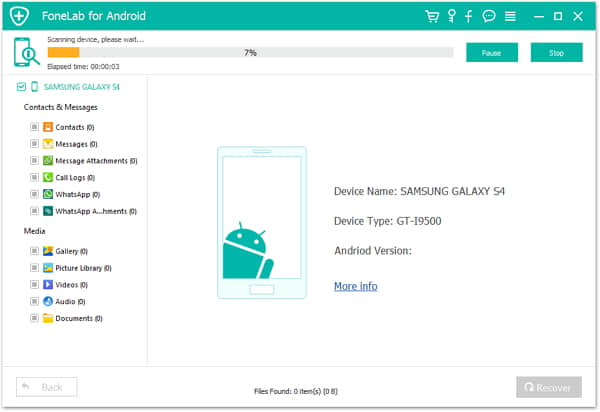 Step 7. select and retrieve data from Galaxy with broken screen
You can preview your Samsung phone's files and restore data to computer after you select and click "Recover". You can retrieve all or several specific items from your broken Galaxy S6/S5.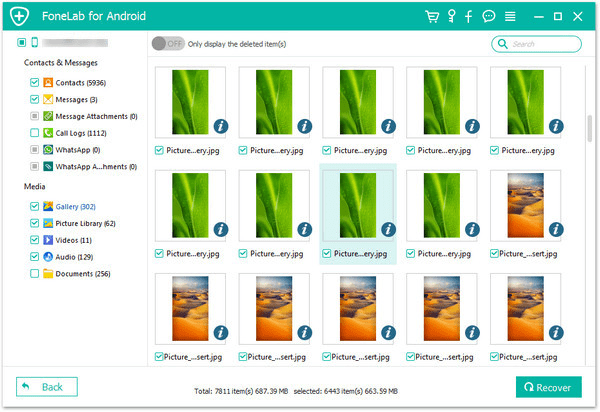 The Bottom Line
It is good news to know that you have already retrieved data from your Galaxy S6 and S5 with broken screen. This FoneCope Android Data Extraction tool is designed to effectively solve Samsung Galaxy S6, S5, S4, S3 broken screen data recovery problem so that you can retrieve your files with simple steps.