"How can I recover deleted files from LG phone? I've made a terrible mistake. I wanted to free up some space (GB) so I went to the "other" section of "storage" and I randomly deleted some files. Now all my photos and some apps won't open. I seriously need help!!! I have an LG G3."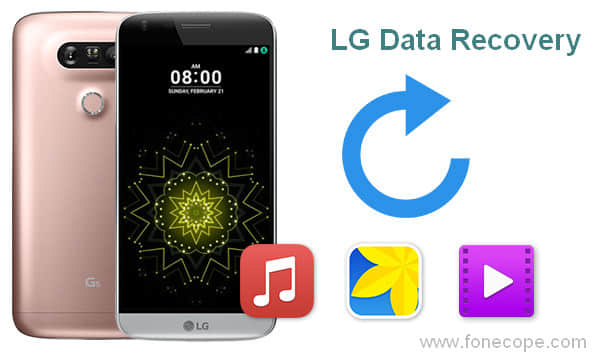 LG G series phones are popular for its snappy performance with fantastic QHD screen, decent design, lightweight, and a good battery life etc.
If you are LG device user, you must have lots of important data on your well-performed LG phone since mobile phone takes a great part in your daily life and work life. And data loss could happen out of blue. Is it possible to get back your lost data by doing LG data recovery? Now learn how to recover deleted files from LG G5, G4, G3, G2 and more models.
Part 1. Can You Retrieve Deleted Texts/SMS, Photos, Contacts, Videos from LG?

Part 2. How to Recover Deleted/Lost Files with FonCope LG Data Recovery Tool?
Can You Retrieve Deleted Texts/SMS, Photos, Contacts, Videos from LG?
1. Firstly, if you have backed up your data, just go to "Setting" > "Backup & reset" > "Backup service or Restore from Backup" > "Personal data restore" on your LG phone. And then reboot your phone after the data restore process is completed.
2. Secondly, check your Google account by typing Gmail and passwords to log in because the auto-sync setting may be turned on saving your data to Google cloud. You can restore from Google Account if your deleted files have been backed up to Google Drive or Google Photos. And Google account allows you to restore deleted files within 60 days from the "Trash" folder.
3. Thirdly, to recover your lost data on LG phone without backup, you will need an effective data recovery tool so that you can access the internal storage of your LG device. Usually speaking, deleting a file on your phone will only remove the address name of this item and mark this place as available for saving new data. It is still possible to recover deleted files on LG phone without backup. This FoneCope LG data recovery program will root your LG phone and get back the retrievable photos, contacts, videos, SMS, and WhatsApp messages etc.
How to Recover Deleted/Lost Files with FonCope LG Data Recovery Tool?
A great LG Data Recovery software is recommended - FoneCope Android Data Recovery, which has helped thousands of mobile phone users get back their deleted files on LG device, such as contacts, messages, messages attachments, call logs, WhatsApp, WhatsApp attachments, photos, videos, music, and other documents. Keep on reading and follow the steps to download LG data recovery to recover lost data on your LG phone.
Step 1. Choose recovery features before starting a LG data recovery
Click "Android Data Recovery" in the interface after you download and run the LG data recovery program on PC or Mac computer. And then you can select the wanted file types that you want to get back from your LG phone. Now hit the "Next" button to move on.
Tips: You can click "Select All" at the bottom on the left if you want to recover all deleted files.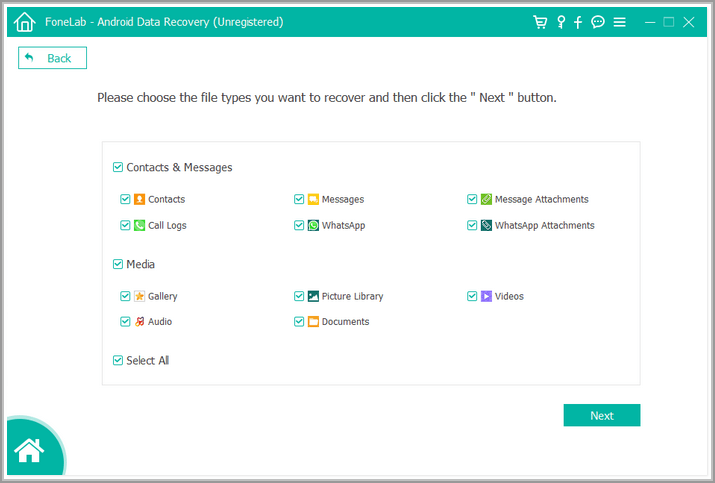 Step 2. Connect LG device to computer with a USB cable
In this step, you'll be asked to plug your LG phone to PC or Mac via USB. As soon as the LG device is connected, this LG data recovery software will recognize your LG phone in a few seconds.
Step 3. Enable USB debugging mode on LG phone
If you've turned on USB debugging mode on your LG device previously, you can skip this step and proceed. To let LG data recovery tool read and access data stored on your device, you need to follow the guide and enable USB debugging setting on LG smartphone.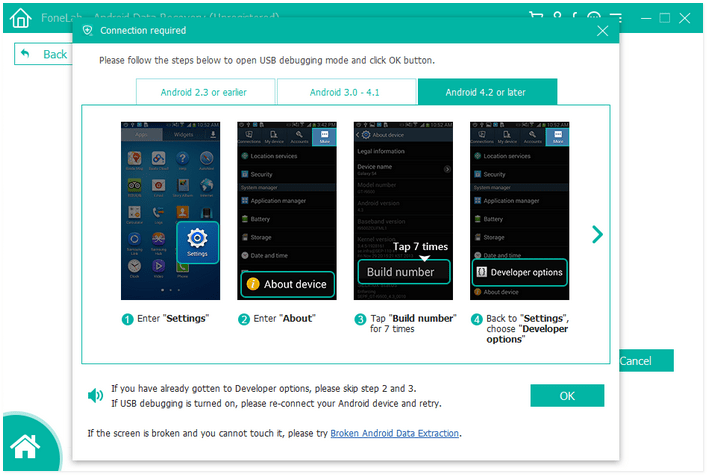 Please know while recovering lost data from LG phones, FoneCope data recovery software will root your LG device.
Step 4. Choose and recover deleted files on LG device
This recovery tool will automatically start scanning all the data on you LG phone, including the existing data and the deleted files. The deleted files will be colored in red, making it easier for you to find your lost data. Now you can click the retrievable items and have a look at the detailed content. Take "Photos" as an example. Under "Media", you can click "Gallery" and "Picture Library" in the left column, and the preview the images on the right. The photos taken with your LG phone camera will be sorted in "Gallery".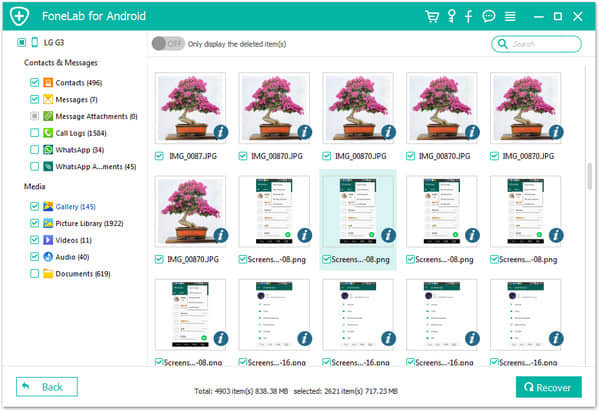 Now you can tick the items that you want to recover from LG device, and then click "Recover" to restore the retrieved LG data to your computer. You can choose a target folder to save the LG files to your computer. Here is another shortcut that you can only view the deleted files if you click the "Only display the deleted item(s)" option.
Finished! Now you can go to the folder and check your recovered data. Performing LG data recovery is such an efficient task to finish if you download this software and use it to retrieve lost data on LG device. Why not download this FoneCope LG data recovery program and scan your lost data on your phone now? You can easily get back your deleted files from LG device with 4 simple steps.
The Bottom Line
After reading the LG data recovery content above, you can know that it is possible to retrieve deleted files from smartphone Android device if the storage place has not been overtaken by the newer data yet. What's more, it is easy to get back LG lost data so long as you have a data recovery tool with you. Not only does FoneCope software recover deleted photos, SMS, contacts, call logs, WhatsApp and more from device, it also exports the recovered LG data to your computer fast.